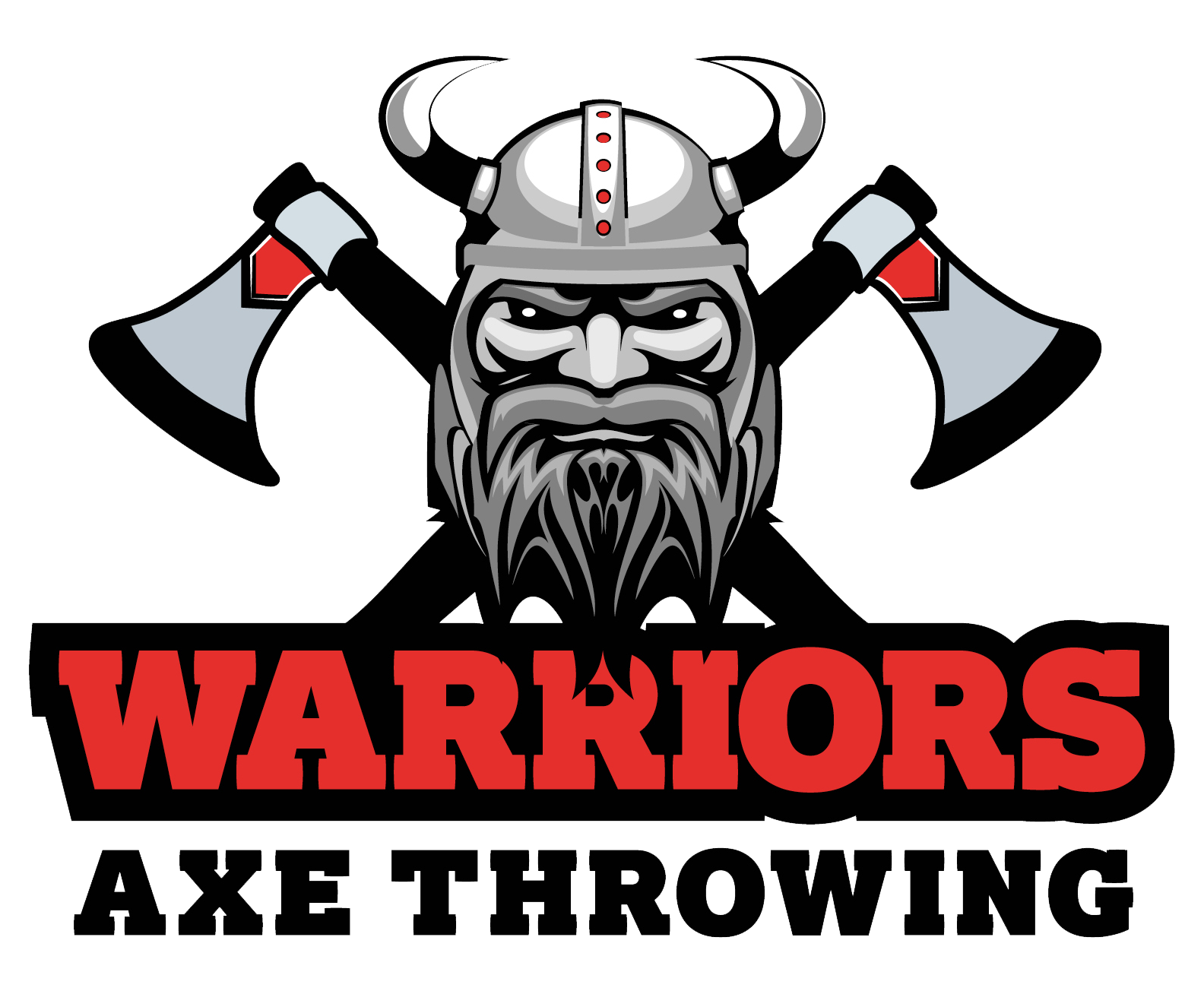 Clubhouse Now Open!
884 Division Street, Unit 204
Cobourg, ON
Oshawa Clubhouse Coming Soon!!
Welcome to Northumberland's Largest and
Only fully liquor licensed axe throwing facility!
Welcome to Northumberland's Largest and Only fully liquor licensed axe throwing facility!
register for upcoming events!
league registration is live!!
Ryan Eldridge, Owner
289-251-0559

Kirk Bambrough, Owner
905-373-1954
For Mobile Bookings, Call Kirk
905-373-1954
Ryan Eldridge, Owner
289-251-0559

Kirk Bambrough, Owner
905-373-1954
For Mobile Bookings, Call Kirk
905-373-1954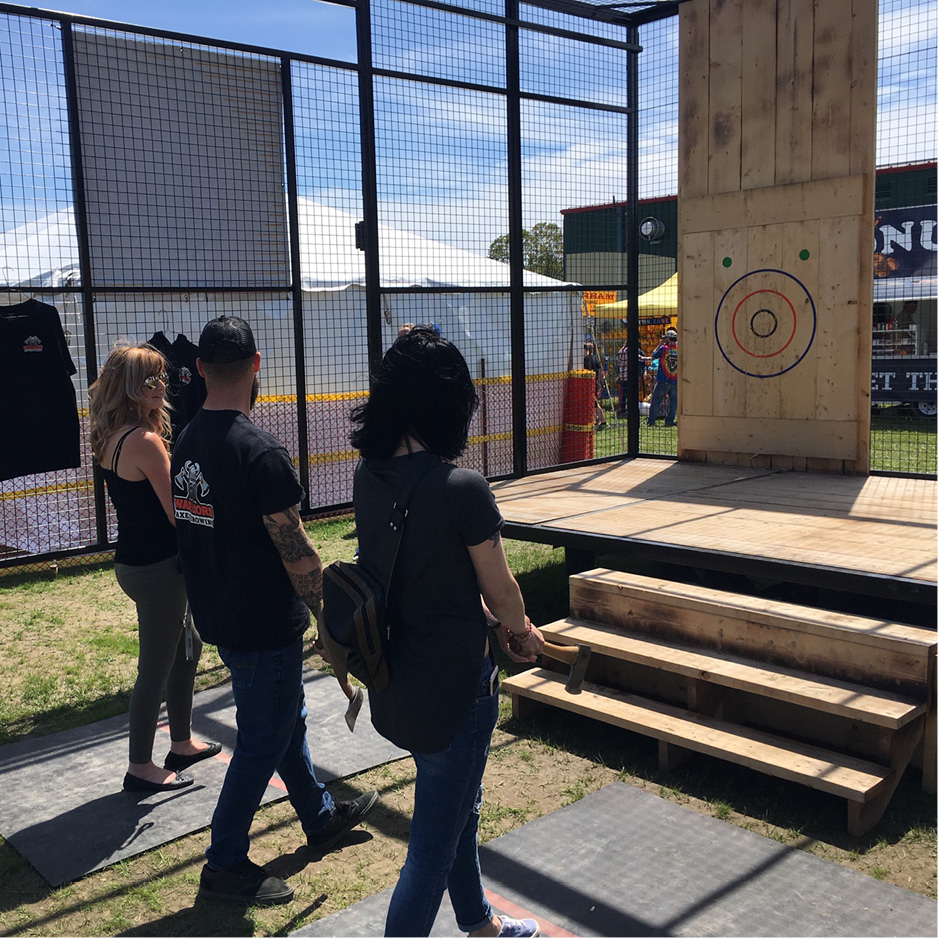 Offering an Axe Throwing Arena in Cobourg! More and more people are getting into axe throwing! It's a fun and challenging co-ed experience for all ages.
There's something to be said about the thrill (and bragging rights) of hitting a bulls eye in head-to-head competition!
Axe throwing offer a great team building experience for work parties and competitive fun sport for friends and family!
We Bring The Games to You!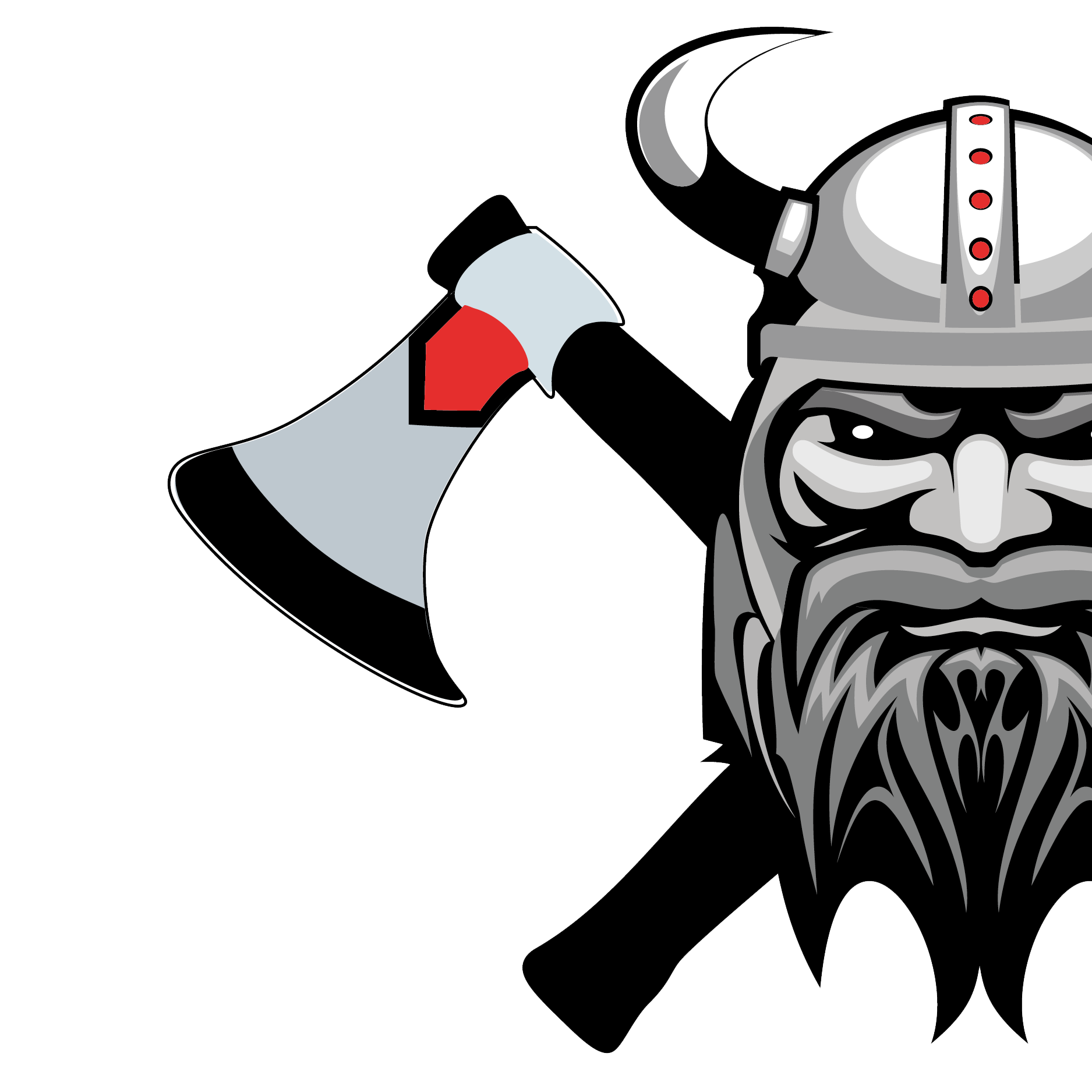 Mobile Axe Trailer
Better suited for Larger parties, Festivals and Group Event
Requires More Space to set up
Option One for Mobile Trailer:
Space Saving Two Targets along the length of the trailer
8.5 ft wide x 25 ft Long x 12 ft High
Option Two for Mobile Trailer:
3 targets along the width of the Trailer, great for large groups, festivals and corporate
20 ft wide with doors open x 25 ft Long x 12 ft High
$300
/hr
Minimum 2 hrs. Additional hours at $225/hr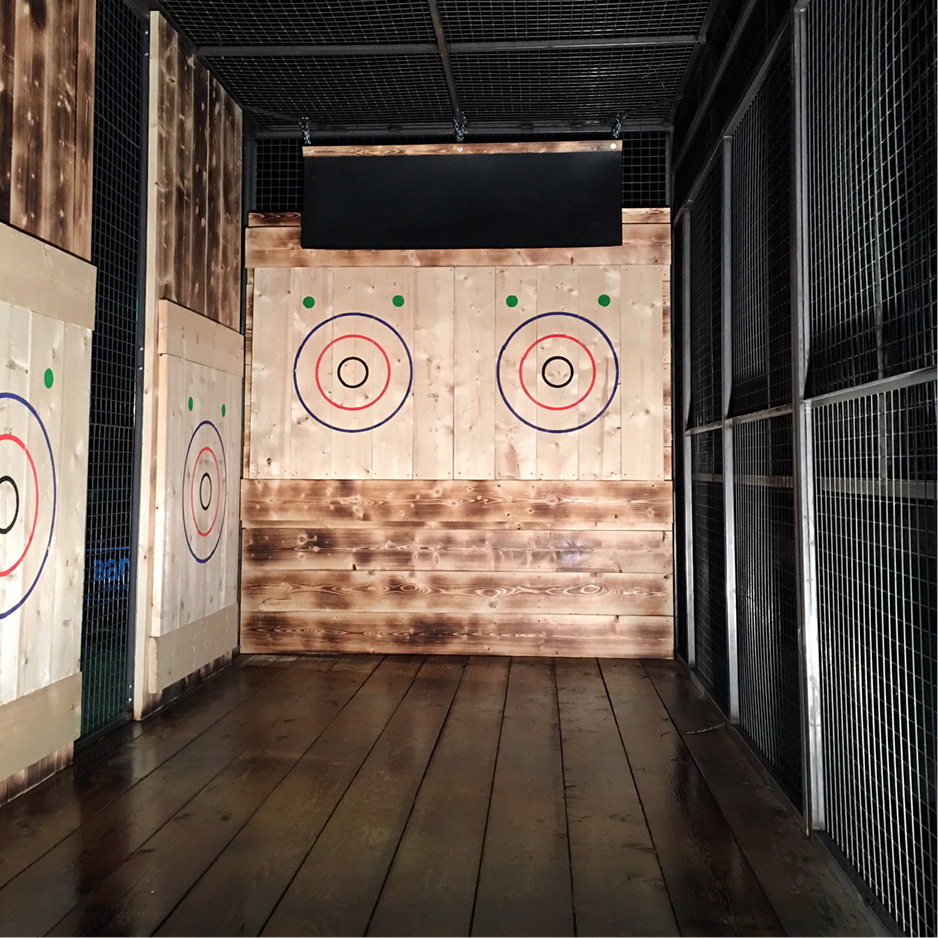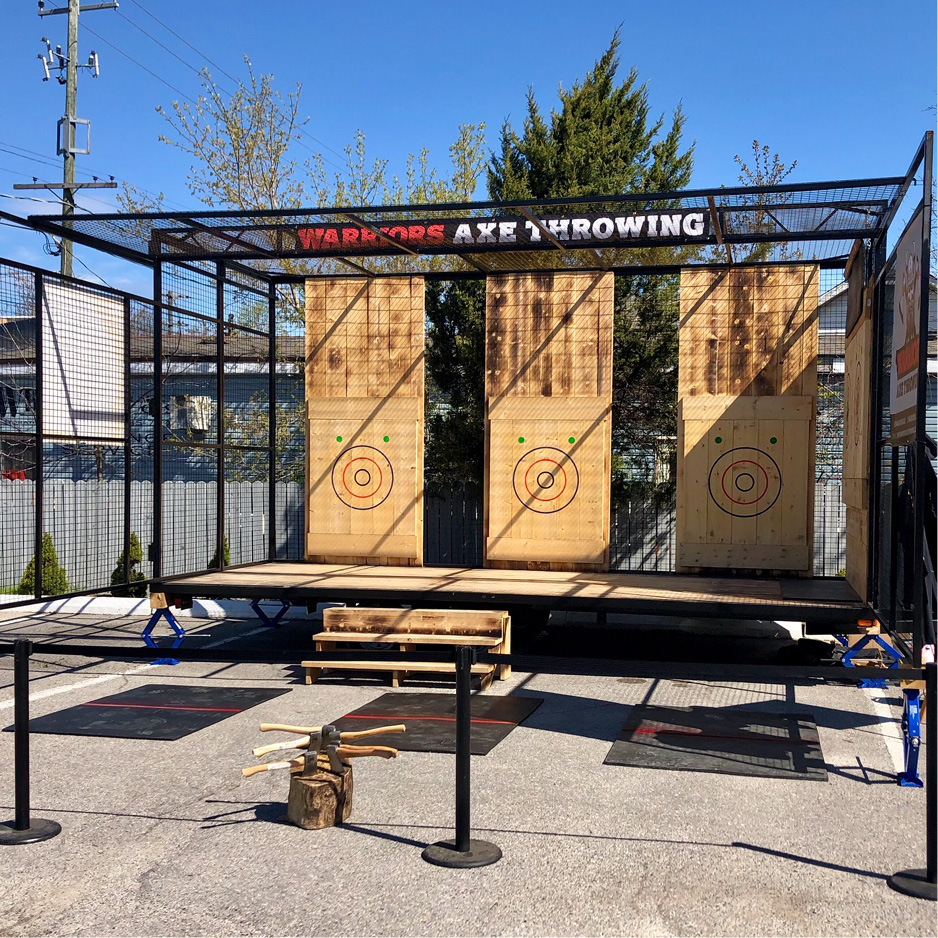 For Mobile Bookings, Call Kirk
905 373 1954
Full setup/removal of the trailer on your property
Staff members to manage the unit and teach your group how to axe throw
Full safety briefing and coaching from our staff
Learn multiple games
Final tournament
Giveaways to winners! We can also giveaway special prizes if you've got something in mind
Protective stanchions
Acess to Bluetooth sound with PA system and Mic
Coming soon Event Software with Online Waivers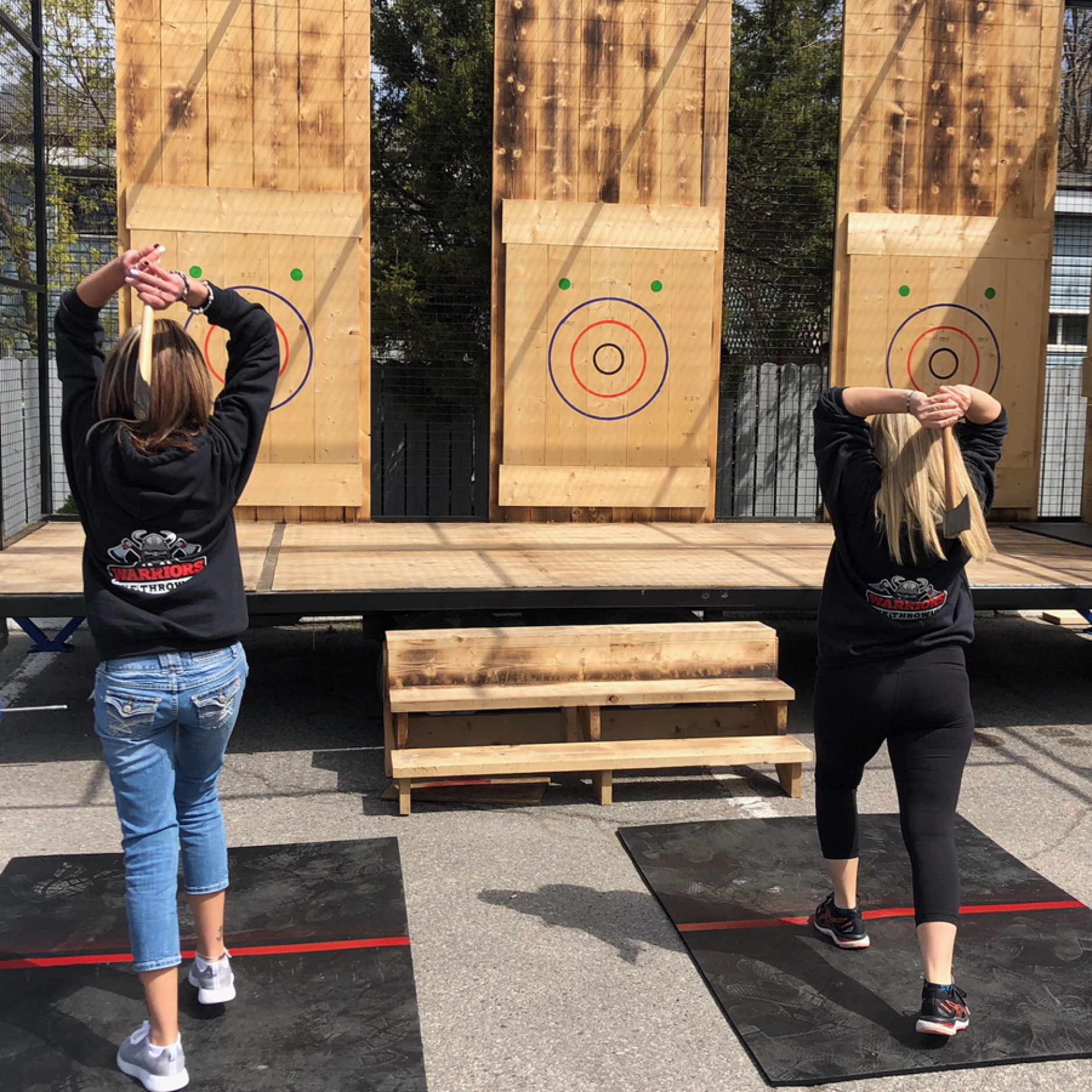 Our Clubhouse features 10 Lanes a fully stocked bar and a whole bunch of axe throwing fun! Our clubhouse has a large capacity that can accommodate up to 80 people, which makes it perfect for all kinds of parties. 2 Throwing Packages Available
Basic Package (25$ plus tax per person) Includes:
Throwing Lesson
Scorecard
1 Throwing Arena for 1 Hour
Best Suited for Group Sizes of 1-6
Premium Package (35$ plus tax per person) Includes:
Dedicated Coach The Entire Session
Throwing Lesson
Dedicated Arena(s)
Ipad for Electronic Scoring with TV Screen
Best Suited For Group Sizes of 6+
Depending on how many people sign up for the season, we run league nights on Tuesdays, Wednesdays, Thursdays and Sundays.
The cost for the league is $155.00 – $175.00 This includes:
7 weeks of regular season
1 final week of Playoffs
The top 16 players, during regular season, are eligible for the playoffs.
Our axe coaches can coach your team or group and run games and tournaments to make your event the best ever!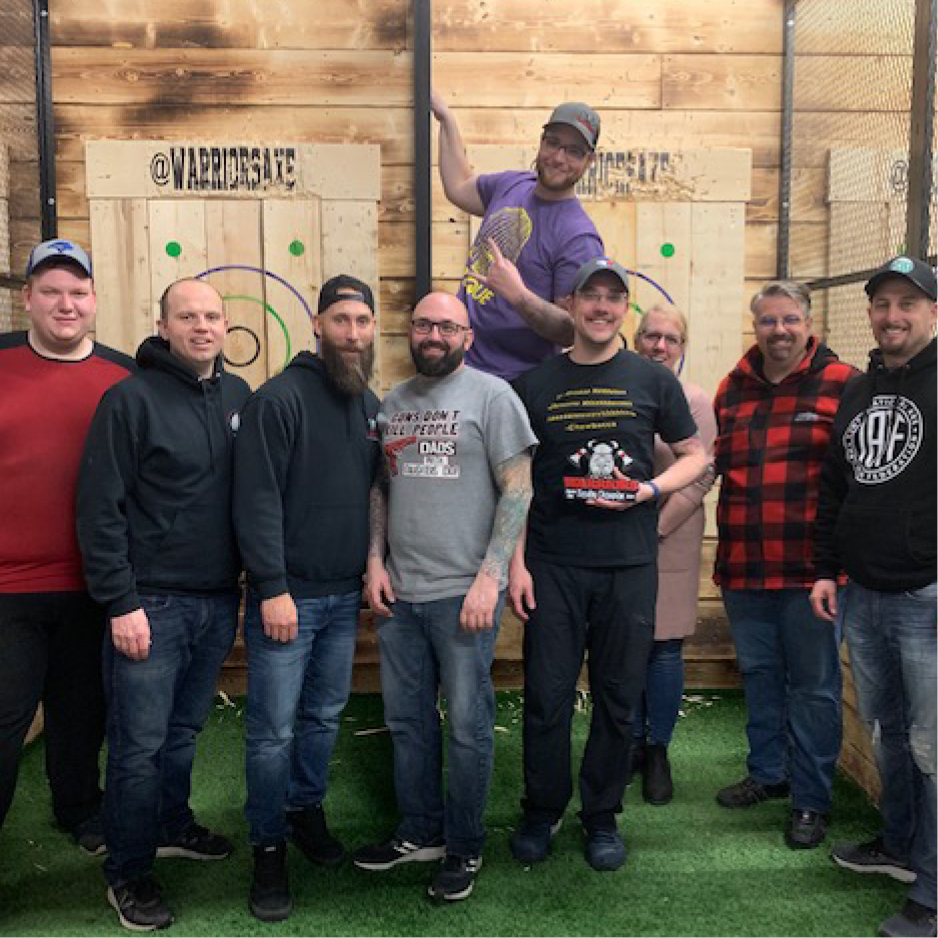 Frequently Asked Questions
How Much Space Will My Group Have?
For bookings between 6 and 12 participants, we utilize half the space on a dedicated set of 2 targets. This is referred to as a "half arena." While another group of 6-12 may be next to you – the targets, your coach and the space on your side of the arena are yours.
13 -20 people will get 4 targets. 
For groups of larger than 24, we simply set aside additional arenas and coaches to expand the tournament to multiple spaces.
Please contact us to book groups larger than 25 participants.
How Can I Pay?
As we are a cashless facility we only accept Visa, Mastercard and debit.
Do You Serve Alcohol?
Yes, we are fully liquor licensed. However, everything we serve is in cans and we do not serve hard liquor.
What Should I Wear?
Please do NOT wear open toed shoes! We suggest you wear loose clothing that would be fit for comfortable movement.
Can We Bring Our Own Food?
You are more than welcome to bring in your own food/snacks. We do have a vending machine offering light snacks and non alcoholic drinks. We can also setup tables for events.
We also work with a number of local caterers to be able to provide food for an event.
Is There An Age Limit?
Our minimum age is 10, but if you child is close to ten please call us and make arrangements because we do case-by-case basis below 10.
Safety is our number one priority so we need to make sure the child in question can safely get a hatchet to the target.
Do You Sell Gift Certificates?
Yes, we do provide gift certificates. They make for great gifts
Do You Sell Axes?
Yes, we have one of the largest selection of throwing axes available in Ontario right now!
We also offer a "try before you buy" program that allows you to test any given axe before you buy it. This way you will get an axe that you absolutely love instead of guessing and hoping any given axe will work with your throwing style.
Check out our new Pro Shop to see what's in stock!
Do I Need My Own Axe to Throw In A League?
No, you are more than welcome to throw with our house axes during league play.
More often than not by mid season you usually want your own axe and we have lots of different axes for you to choose from when you hit that point.
Can People Come And Just Watch?
Yes, people can come and just watch without worrying about paying.
Open for Bookings 7 Days a Week
Walk in and Regular Hours:
Wed 5:30 – 9
Thurs 5:30- 9
Friday 5:30 -11
Saturday 11 – 11
Sunday 11 – 8
For bookings please call:
Ryan 289-251-0559 OR
Suzanne 905-334-5345
For Mobile Bookings, Call Kirk
905-373-1954